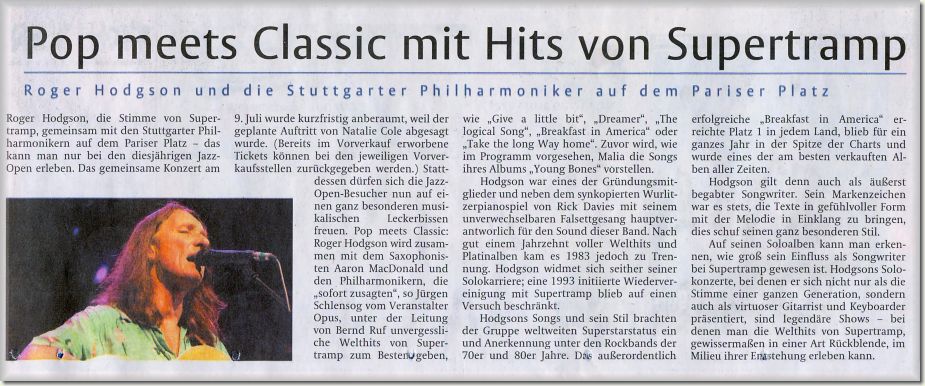 ---
From Schwäbische Post 11.7.2007
(English translation)
jazz open stuttgart Malia und Roger Hodgson acclaimed on Pariser Platz.
A hymn-like pleasure
"Music reflects all movements/emotions of our deepest inner/being but complete without reality and away from its pain." – and full in the meaning of Schopenhauer (famous German philosopher) two musicians who can´t be any different than they are touched on Monday at the Pariser Platz with their uncomparable hymns something deep hidden.
From VIVIEN MOSKALIUK
Grey clouds gathered over Pariser Platz in Stuttgart but kept mum brave. The second day of the festival with Malia and Roger Hodgson and the Stuttgart Philharmonics passed rain-less. Therefore the sounds of Malia drifted like too early autumn leaves through the gloomy mild air, of melancholy beauty, combining ending and beginning, and mourning and hope. The lost/loneliness of Blues, the easiness of Jazz, the drama of Soul, the uncomplicatedness of Pop has been unified by Fabien Marcoz (contrabass), Matilda Sternat (cello), Laurent Robin (drums) und Andre Manoukian to a musical flow, that carried the uncomparable voice of Malawi-born singer Malia. This gentle "rough-voice" which sometimes threaten of breaking tingle poetisized (?) in nostalgic Billie-Holiday-manner love, being/existence, loneliness. She could have shook the fragile human balance between life and soul to its foundations if the ambience would have been more intimate. But also she has been spinning someone in her musical universe.
Another form of nostalgia evoked Roger Hodgson. Here you are allowed of being truly curious because the union of former Supertramp-singer and songwriter with the Stuttgart Philharmonics is a unique/one-time project. "At yesterday's and only rehearsal hot and cold shivers run down the spines of the people", reported Mini Schulz, promoter of Stuttgart jazzclub BIX, between stage-remodeling. Dr. Michael Stille, director of the orchestra, acted cool: "They understand themselves at first go." The first notes of "Take the long way home" dispelled any doubt which you could have with the combination of rock and classical-music. It was like Supetramp in Cinemascope, area-covering, bombastic, to be grabbed with fingers. The Philharmonics supervised by in these kind of projects experienced Bernhard Ruf are carrying the immortal classic-hits without obtrusion. Not later than the second song, the hippiesque "Give a little bit," audience and philharmonics have been complete in the hand of the charismatic icon. "Breakfast in America," "Logical Song," "School," "Dreamer," "It's raining again," hit after hit lined up, Hodgson alternated between piano, keyboard and guitar and Aaron MacDonald manifests with saxophone and harmonica the introvert of the lyrics and the irresistible/compelling rhythm of Pop, same like Hans Eijkenjaar on drums and Michel van Schie on bass. That was groovy, timeless nostalgia.
---
Newspaper+Online: Stuttgarter Nachrichten – July 11, 2007
(English translation)
Roger Hodgson in dialogue with the Stuttgart Philharmonics
"I would love to take them with me"
Even on the day after the Live-Performance at Pariser Platz (Parisien Place) at the Jazz Open, Supertramp Co-founder and singer Roger Hodgson is full of praise about the Stuttgart Philharmonics, his accompaniment orchestra at Monday evening. "I would love to take them with me on a tour." The reason for it he gave already at the concert-evening: "This orchestra has more rhythm than any other I played with before." At the same level he appreciates the discipline of the musicians, mainly trained of dealing with classical music. Special praise also for Bernd Ruf, professor for popular music, leader of the ensemble Tango Five and conductor at this evening. Hodgson: "I don´t really know any conductor like him. He rocks! He really connects with the musicians and brings out a great sound."
What started as a necessity-solution/makeshift after the relative short termed cancellation of soul-singer Natalie Cole could become one of the early climax of this year Jazz Open: the Supertramp-Singer Roger Hodgson with his well known hits and some not so well known pieces together with the Stuttgart Philharmonics.
Very clever from the beginning was the set-list: "Take the long way home" and "Give a little bit" – these are the opening songs with a high re-identification-value. With "Lovers in the wind" from Hodgson's first solo-album the orchestra has his first big entrance: violins, flutes and oboes sounding in their most beautiful colours, also the xylophone is working here as a steady accompanist.
Here two sounding bodies are not acting parallel, because with saxophone-player Aaron MacDonald, drummer Hans Eijkenjaar and bass-player Michel van Schie, Hodgson has also engaged experienced rock-musicians. What this cooperation is effecting is viewable for example in "Hide in your shell": the contrabasses are underscoring the running of the electro-bass, kettledrums are giving even more impact to the drum-part. Not only increased dramatic is the consequence but also more poetry: "Only because of you" gets so in the foreplay impressionistic tendencies. Between are lying high-complex pieces like "School" with it´s multilayer rhythms or as the climax "Fools Overture" at the closing of the official programm. And again and again virtuosic gimmicks can be experienced like the big clarinette-perfomance in "Breakfast in America" or "Dreamer", where Ruf is dancing like crazy to the music and even is conducting parallel. Hodgson changes alert between guitars, grand-piano and electrical piano, playing on them his known staccato-chords, closing ecstatic his eyes and singing (along) with it, whereas he is admitting: "It is very complicated for me facing this unbelievable orchestral sound to sing correctly/to concentrate on singing." You can believe him this compliments: Indeed you have to make some cut backs on acoustical quality regarding this open-air-atmosphere, but the entitlement and the perfection which are behind this project can be heard without doubt/is offhand.
The time of the big hits and concept-albums as well as a reactivation of Supertramp seems to be gone. Therefore he is concentrating on letting his audience participating at the joy he is having in his music. Hodgson: "Time has become fast-pacing. Today only few are taking 40 min. of their time to hear a concept-album from the beginning to its end. That´s a pity but I can´t change it." Indeed it became also evident at the Stuttgart audience that on this evening many memories evoked. Spooning couples, blessedly smiling people – they all didn´t wanted to let Hodgson and the Philharmonics go off the stage. Then also the musicians demonstrated obviously that they would love to play longer together. Hodgson will be ready in any case: "I will come at any time to Stuttgart if I will be invited. That festival is a great frame for my music." – Armin Friedl
---
What a magical night, what a magnificent concert! The whole show left us speechless. Even though we've attended a couple of Roger Hodgson concerts so far - this one was the best we've ever seen!
A very special and big THANK YOU to Aaron, Linda, Shakti and of course Roger!
Hope to see you soon again!
Stefan / Maria / Luis
---
Dear Roger, I saw your concert in Stuttgart last night and I don't know how to describe my feelings about it. It was great, brilliant, amazsing, fantastic... I've been a fan of you and your music since I was a little child. My elder brother always listened to Supertramp and so I grow up with your music. I was always very sad, that I was too young to see you live in concert, because when you left Supertramp in 1983 I was 6 years old. I always dreamt to see you live and yesterday my dream came true. It was such a great gift for me and I want to thank you for that great great concert! It was perfect and the orchestra and you played so harmonically together like you have never have done something else. Roger, I love you and your music!! Your music was always an "anchor for my soul" and always will be. Thank you so much!
Much love from Germany and all the best for you!
Claudia