Press Release:

CONCERT FOR DIANA - SUNDAY, JULY 1, 2007

Roger will be among the few performers invited to pay tribute to the life of Princess Diana.




The Concert for Diana was a huge success! Although Roger was recovering from a really bad flu and laryngitis, he connected with his audience on a global scale.

Even the Princes were singing along! Watch video clips from the concert below.

Andrew White from Hastings, England wrote this review of Roger's performance:
"At approximately 625pm ( UK time ) on 1st July 2007, Roger Hodgson took to the stage at the Concert for Diana, held at the new Wembley Stadium, London, England. This event was organised by Princes William and Harry to celebrate (what would have been) the 46th bithday of their mother, of whom so much has been said and written about.
Supertramp were one of Diana's favourite bands and it was great to hear that Roger would be playing at the concert. Indeed (and I'm happy to be corrected on this), it was long overdue that either Supertramp or Roger would play at one of these large all-star global concerts that seem to have become major events since Live Aid in 1985. What a fantastic occasion for this long-standing oversight to be corrected, for us all to see and enjoy !
With a brief reminder to the audience of the sales of "Breakfast In America," our man was there, in his white shirt and black trousers, playing at the keyboard at the end of a stage extension that went deep into the new Stadium itself. This gave Roger a chance to really connect with the audience, rather than play at one end of the huge Stadium itself.
I was surprised to hear the opening bars of "Dreamer" float out, but members of the audience recognised the song and were singing away. Such appreciation rose significantly when, halfway through the song, Roger launched into "Logical Song," which was Supertramp's highest placed single in the UK all those years ago. The Princes themselves were singing and dancing away with the audience, and this continued when the medley continued with "Breakfast In America" itself. The medley itself was a complete surprise to me, and a crafty way of saving time in getting 3 songs into a 2 song slot.
After acknowledging the Princes of knowing how to throw a great party, Roger launched into "Give A Little Bit," which was played in its entirety with great enthusiasm. Aaron MacDonald accompanied Roger on saxophone, and for the final verse and chorus, Roger and Aaron were joined by three female backing singers (names unknown to me) to bring the song, and Roger's set, to a close. The audience cheered on, having had a good sing-a-long to those four great songs.
Roger seemed to have enjoyed it all, and it was great to see him at this event, reminding everyone watching how good Supertramp's music still sounds after all these years. Having been present at the remarkable gig at Shepherd's Bush Empire in November 2005, and on the strength of yesterday's performance, Roger can look forward to his forthcoming UK Tour in October knowing that the fans will be there in vast numbers to support him. I, for one, cannot wait for the Royal Albert Hall gig.
---
From thecliffedge.com -July 1, 2007
Giving more than a little bit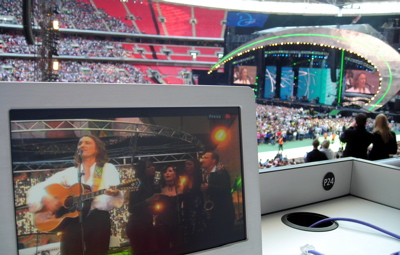 View from the press box: Roger Hodgson sings Supertramp
LONDON 7:00: The English National Ballet gets a very warm reception as they perform "Swan Lake Act 4? followed by a 10-minute break in which the crowd does a faultless Mexican Wave. Ageing rockers Status Quo lead into Joss Stone, barefoot in a loose green dress, and then Roger Hodgson shows up to sing some songs from Supertramp's bestselling "Breakfast in America" album. His "Give a Little Bit," with just guitar and backup singers, has the crowd filling the stadium with its enthusiastic singing.
---
Concert for Diana: CTV.ca's top five moments
Updated Sun. Jul. 1 2007 6:13 PM ET
Tyrone Warner, CTV.ca
It was a spectacle inside Wembley stadium Sunday night with diverse acts from all genres firing on all gears - whipping the 65,000 in attendance into a frenzy. Here's the top five moments of the concert from our vantage point here at CTV.ca.
5. Roger Hodgson's "Give a Little Bit"
His voice might not have been perfect, but he with the billowing white shirt made the stadium feel nice and cozy with his trademark song. Seeing everyone clap in time together was magical -- a kind of moment not often had amongst these large affairs.
4. Kanye West's "Gold Digger/Touch the Sky"
Whenever Kanye hits the stage, there's an explosive energy that can't be beat. His performance of "Gold Digger/Touch the Sky" was classic, and he nailed it. Good on the princes for bringing some authentic urban flavour to the show.
3. Nelly Furtado's "Maneater"
Canada's finest confidently strode across the stage with a rocked out version of her hit song "Maneater." You could see that the crowd, including Prince William and Harry, loved every moment of it. Best part of all? Seeing Toronto MC Saukrates filling in for Timbaland and bringing his raw stage presence to the track. Also, the "clap cam" was in full effect, with the princes clapping away for Furtado.
2. Ricky Gervais's "Free Love on the Free Love Freeway."
This humble scribe can't hide his love for the original UK version of "The Office," so it's no surprise that Ricky Gervais, and his pseudo hit "Free Love," was one of our favourite parts of the show. Well that, and his performances of "The Dance" and "Chubby Little Loser," which was originally performed by David Bowie on his show "Extras," were both an expected treat.
1. Tom Jones singing "I Bet You Look Good on the Dancefloor"
Jones, who is well known for his reinterpretations of classic songs just added the Arctic Monkeys into the canon of songs that people must cover when he did his own horn-infused take on this punky song. I bet the Monkeys probably lost it when he busted this out.
---
By Howard Gensler - Philadelphia Daily News - July 2, 2007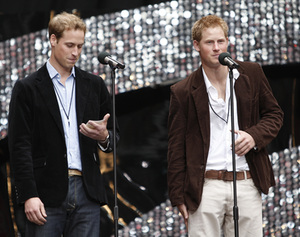 If being princes becomes a bit of a drag, William and Harry could always try their royal hands at concert promotion.
Their daylong celebration yesterday for what would have been Princess Diana's 46th birthday went off without a hitch - even the fickle British weather cooperated with sun.
And while NBC hacked the event to ribbons to fit into an hour time slot last night, VH1's day of coverage was quite entertaining and surprisingly moving.
One thing about those big Wembley stadium concerts is that British music tastes are eclectic and the Brits stay loyal to their rock 'n' roll gods.
Status Quo? Roger Hodgson of Supertramp? They had everyone up and singing as much as the younger, "hipper" acts.
So kudos to the princes for keeping the event British and personal and deftly mixing new sounds (The Feeling, Natasha Bedingfield) with their mum's favorites (Duran Duran, Elton John).
It shows the clout of Diana 10 years after her death that VH1 would dedicate five hours to a concert hosted by people we don't know, featuring video tributes from scads of regular blokes and lots of old photos and home movies.
But seeing a parade of diverse talents like Kanye West, Bryan Ferry, Fergie, Tom Jones, Joss Stone, Rod Stewart, Pharrell Williams, Nelly Furtado, etc., plus Andrea Bocelli, Sarah Brightman and Donny Osmond singing Andrew Lloyd Webber songs, plus Ricky Gervais plus the English National Ballet overwhelming the huge stage with a selection from "Swan Lake," and it was like going back in time for a Sunday airing of "The Ed Sullivan Show."
So, why, again, is the variety show dead?
---
Sons remember Diana with star-studded concert
Publisher: Ian Morgan
Published: 02/07/2007 - 08:17:37 AM
More than 60,000 people attended an emotional night to remember at the Concert for Diana staged by Princes William and Harry.
The young royals marked the 10th anniversary of the death of their mother, Diana, Princess of Wales, with a pop extravaganza at Wembley Stadium last night.
The princes had a little help from the women in their lives, with Harry sharing a kiss with girlfriend Chelsy Davy as the event began.
William was joined in the royal box by Kate Middleton, fuelling rumours the couple are back together.
They did not sit together, however, and Kate brought along sister Pippa and parents Michael and Carole for company.
Both girls helped the princes organise the six-hour concert, which featured a line-up of top names including Sir Elton John, Lily Allen, P Diddy, Kanye West, Rod Stewart, Take That and Joss Stone.
Prince Harry, 22, kicked off proceedings with a cheeky: "Hello, Wembley!"
He and William addressed a crowd of 63,000 in the stadium and a global TV audience of 500 million watching in 140 different countries.
"This event is about all that our mother loved in life - her music, her dancing, her charities and her family and friends, said William, 25. "We just want you to have an awesome time and enjoy the line-up."
Yesterday would have been Diana's 46th birthday.
The concert ended with never-seen-before home movie footage of her childhood. Many in the crowd hugged and wiped away tears as they watched images of her as a smiling toddler and a young girl playing on a swing, riding her bicycle and dancing for the camera.
The young princes were the stars of the show.
Harry couldn't resist cracking a joke at the beginning, saying: "When William and I first had the idea, we forgot we would end up standing here desperately trying to think of something funny to say. We'll leave that to the funny people - and Ricky Gervais."
Throughout the day in the front row of the Royal Box they took part in Mexican waves, held their arms aloft to Rod Stewart's Sailing, joined in the mass sing-along for Take That's Back For Good, and danced away to Maneater by Nelly Furtado.
Harry also used the occasion to deliver a special message to his Household Cavalry squadron serving in Iraq, listening via a live radio simulcast.
The Prince said: "I wish I was there with you. I'm sorry I can't be. But to all of those on operations at the moment, we'd both like to say - stay safe."
Harry, a Cornet in the Blues and Royals, was banned from serving in the front line in Iraq over fears for his safety.
The princes introduced one of their mother's favourite acts, Duran Duran, before taking their seat in the Royal Box.
Chelsy wore a low-cut black dress while Kate looked more demure in a smart white jacket.
They were joined by cousin Zara Phillips and her rugby player boyfriend Mike Tindall, Princesses Beatrice and Eugenie, and a host of friends.
Diana's siblings, Earl Spencer, Lady Sarah McCorquodale, and Lady Jane Fellowes were also among the guests at the concert, as was photographer Mario Testino, whose famous black and white images of the Princess filled the stage as the backdrop during Elton John's opening set.
After a morning of rain showers, the sun came out for the start of the gig.
Sir Elton John, who sang Candle In The Wind at Diana's funeral in 1997 and was one of her close friends, opened the concert with Your Song.
He also closed the event with Saturday Night's Alright For Fighting, Tiny Dancer and Are You Ready.
Throughout the day, artists dedicated songs to Diana.
Duran Duran played Rio in memory of "this country's favourite princess", while the likes of Joss Stone, Sir Tom Jones and Roger Hodgson of Supertramp played songs they knew were her favourites.
Former England soccer captain David Beckham, there to introduce Take That, took the stage to huge cheers.
He said: "I am truly honoured to be here today to help celebrate the incredible life of the most amazing lady this country has seen for many, many years.
"She was the nation's lady, the nation's princess, always has been and always will be.
"I think what the princes have achieved here is truly remarkable and the nation should be so proud of them."
Other presenters included Sienna Miller, Jamie Oliver, Kiefer Sutherland and Cat Deeley, and there were video tributes from Nelson Mandela and former US president Bill Clinton.
Sutherland described Diana as "one of the great icons of giving".
X Factor and Britain's Got Talent judge Simon Cowell introduced one of the acts.
He dropped his usual Mr Nasty act to congratulate William and Harry on a job well done - and even offered them both jobs.
"You have put on one heck of a show. In years to come, if you ever get tired of running the country, you can come and work for me producing TV shows," he told the laughing princes.
Among the most popular acts of the day were Lily Allen, who sang hits Smile and LDN; Supertramp's Roger Hodgson, who led the crowd singing Give A Little Bit; Rod Stewart; Take That; and a medley of Andrew Lloyd Webber hits which included old and new Josephs Donny Osmond, Jason Donovan and Lee Mead performing Any Dream Will Do.
One of the more poignant moments of the day came when P Diddy sang Missing You.
He wrote the song in memory of record producer Notorious B.I.G, who died in the same year as Diana.
William and Harry joined in as every member of the 63,000-strong crowd sang the words.
The US star ended by looking up at the heavens and saying: "We miss you, our princess."
There were boos for former Prime Minister Tony Blair when he appeared in a video message.
But they turned to applause by the end as Mr Blair said: "I would like to pay tribute to William and Harry. I know their mother would be very proud of them.
"Despite being so clearly a princess she was also quite obviously a human being. People knew that and they loved her for it.
"I think that in William and Harry the qualities that made Diana special live on."
Other performers included Fergie, Pharrell Williams, Kanye West, Will Young, Status Quo and the English National Ballet, of which Diana was a patron.
There was a heavy police presence around the stadium and ticket-holders had to go through stringent security checks before entering, but there were no complaints.
---
From Yorkshire Post
Princes join in fun at Diana concert
Princes at the concert. PA
Princes William and Harry joined crowds in a stadium-wide Mexican wave during the Concert for Diana at Wembley last night.
The princes joined in the fun with the 63,000-strong crowd at the special gig they organised in memory of their mother, on what would have been her 46th birthday.
Prince Harry also gave girlfriend Chelsy Davy a kiss on the lips as he settled into his place next to her in the front row of the VIP section after he and WIlliam took to the stage.
The pair danced to Sir Tom Jones's rendition of Kiss and to one of their mother's favourites, Roger Hodgson of Supertramp. Other performers included Bryan Ferry, Will Young and Natasha Bedingfield.
The concert began with Elton John singing Your Song and ended with an Andrew Lloyd-Webber medley.
---
From Guitarblog.com:
Roger Hodgson Gives A Little Bit More
Roger Hodgson of Supertramp strummed a 12-string acoustic guitar earlier this week like he was leading a campfire sing-a-long, and 63,000 fans of Diana at Wembley Stadium sang along, enthralled.
Many in the audience were no doubt mere glints in their parents' eyes in 1979, when Supertramp released their seminal album Breakfast in America. Even fewer were around in 1977 when "Give a Little Bit" was the first track on Supertramp's Even in the Quietest Moments. Still, the intro chords and opening lyrics are as familiar to Baby Boomers as they are to Gen X, Y and Z.
If you need a reminder as to why insane speed shredding is not the sine qua non of arena adoration (and we all need that reminder from time to time), just read the reviews and watch the footage (labeled "GALB") on Hodgson's site regarding what an aging icon can do with a 12-string and a decent PA system.
---
From stereoroid.com:
Today's big music news is the Princess Diana Memorial Concert, which did not sound at all promising, but passing through the channels now there was one pleasant surprise: Roger Hodgson, by himself, has got the whole of Wembley Stadium singing Supertramp songs. "Well, this is cosy, innt?"
---
From The Bog Standard Blog
I have been watching...
The Concert for Diana
...and so far have been impressed by...
Rodger Hodgson, I'll be on the lookout for songs by Supertramp now.
---
From orchidaworld.com
Lady Di is still alive
Lady Diana is still alive today on 1 July 2007, almost ten years after the tragic accident in Paris.
In an inspiring show to her honor in Wembley Stadion her memory is kept alive by persons who still have very warm memories of her and by artists who dedicated songs to her. Roger Hodson from the band Supertramp says that her message was all about giving. It's true. Lady Di really gave and inspired people to give a little bit, to give a little love, to give a little smile and to give generously to charity.
And you know what? They say as long as they talk about you, you're not dead. Lady Di must be smiling from above and enjoying this show. What a couple of great sons she has. What a proud mother she must be. Today's show, on the occasion of her birthday, shows that Diana's legacy is alive and kicking.
---
Messages to Roger about his performance:

| | | | |
| --- | --- | --- | --- |
| | Click drop down to read messages | | |
We've received quite a few questions from fans wanting to know about Roger playing at the Concert for Diana. So here is a page answering some of them…

Question:

I heard that the songs in the medley Roger performed were some of Princess Diana's favorite songs that he wrote and composed, is that true?

Answer:

Yes, he created a wonderful medley of a few of his songs he had heard from various sources were some of Princess Diana's favorites- songs that she loved and sang with Princes William & Harry and even danced to. The medley was Dreamer, The Logical Song and Breakfast in America. Had there been more time he would also have loved playing a couple of her other favorite songs like, Take the Long Way Home or Lord Is It Mine.

Question:

I heard several artists speak about the tremendous amount of change at the last minute and technical glitches that most people in the audience didn't even notice. Did Roger experience that also?

Answer:

He sure did! Up until the day of the show, Roger was also slated to perform some of his songs on Grand piano. Unfortunately they were not able to lift the piano onto the stage so he had to be very flexible and perform only on keyboard and guitar.

Also, one of the hardest things during the show was that Roger wears inner ear monitors to hear the sound and they kept cutting in and out so often he could not hear himself playing or singing.

Question:

Compared to hearing him on the DVD, it sounded like Roger had a cold or flu, is that true?

Answer:

Yes, he did have a cold and he was still recovering from laryngitis. Many people have written in saying what a great job he did and how amazing it was that he was able to perform with a cold, having lost some of his voice. He always puts all of his heart into his performances and he did the best he could under extreme circumstances for a performer. And it was great how the audience all got on their feet and joined in.

Question:

Is it true that Roger was personally invited by the Princes to perform?

Answer:

Yes that is true, he received a formal invitation by the Princes, and Roger feels very honored to have been asked to perform. He feels it is very beautiful what the Princes are doing to honor their mother. Princess Diana represents to so many of us the spirit of compassion, generosity, care and grace.

Question:

Is it true that Roger had always wanted to perform for Princess Diana?

Answer:

Yes, he admired Princess Diana very much and had always wanted to perform for her, so he immediately said yes and was very happy to be able to perform for her in this special event.

Question:

Did the Princes ask for the songs that he did?

Answer:

Yes, the Princes asked for those songs. Roger gave a list of the songs he felt and the ones he played are the ones that they chose.

Question:

Is it true that the Princess Diana used to dance to Supertramp music?

Answer:

Yes, Princes William and Harry said that their mother used to dance around her palace listening to Supertramp, and in an interview before the concert Prince William said, "She loved exactly the kind of people who are coming... she loved Supertramp."

Question:

I heard Roger feels "Give a Little Bit" is a theme song for him and he played it for the Princes. Does it have a special meaning for him in relation to Diana's life and the message he was sending out to the Princes about their mom?

Answer:

Yes, "Give a Little Bit" is so much about coming from our hearts in all we do, and it's about loving and caring for people. So it was the perfect song to play to remind us all, as Prince William has said, that everything Princess Diana did was "from the heart", and that she "loved caring for people and she loved helping". "Give a Little Bit" is a beautiful reflection of how Diana lived her life.

Question:

"Give a Little Bit" was the most uplifting song I heard at the concert, it raised everyone's spirit and had people dancing in the aisles. Why does Roger think it is so timeless and continues to be so inspiring?

Answer:

Roger was just a teenager when he wrote "Give a Little Bit", and he has said "even then, the love that I was writing about was a universal love. This song is very special to me because its simple message is timeless. I feel that giving a little bit of our love to each other is one of our main purposes in life."




Roger also felt it was the perfect song to play for and to Diana because it has become a theme song for charity work, particularly for the Tsunami Relief Efforts, and Diana has been remembered in the hearts of many for how her charity work touched thousands of lives.




ROGER'S DVD - TAKE THE LONG WAY HOME
At long last, after years of anticipation from Supertramp and Roger Hodgson fans, we have created the most amazing DVD of one of Roger's solo concerts:
Roger Hodgson: Take the Long Way Home — Live in Montreal
The DVD of Roger's June 6, 2006 solo concert in Montreal was released in Canada last year, where it went to #1 and Double Platinum. It will be released worldwide this Fall. Read what others have said about this DVD here.