(Super)tramps like us
Roger Hodgson gives (more than) a little bit on stage
Nov 2, 2012 |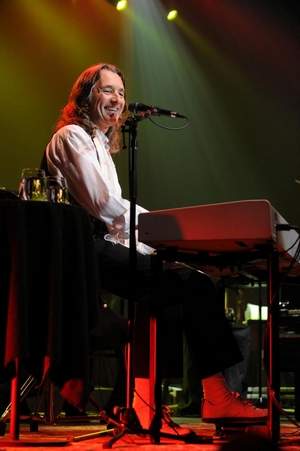 Roger Hodgson at the keyboards.
Written by
For the Daily Record
The man who wrote and sang "Give a Little Bit" is feeling more than a little generous these days.

Roger Hodgson, whose distinctive tenor voice and introspective lyrics were signatures of the band Supertramp, has returned to performing after a hiatus of some 20 years. And, in his own words, he's "having the time of (his) life."
"It's better now than it ever was," says Hodgson. "I'm older and wiser. I feel I have more to give the audience. I don't think I've ever sounded better, and I have to say that my band is the best band I've ever put together."
Hodgson, who is playing two dates in New Jersey, finds himself in an odd position, however. The songs he did with Supertramp in the 1970s and early 1980s – such as "The Logical Song," "Take the Long Way Home," and "Dreamer" – are still staples of radio.

But Hodgson's own name is less well known than that of Supertramp. "I'm not a known quantity to a lot of people," he says. "People have been hearing these songs for years, but it's taken me a while to establish my own name."
His recording career actually dates to 1969, when he played guitar on the song "Duck Pond" by a group called People Like Us. At the time, he was fresh out of boarding school in Buckinghamshire.

Less than a year later, he was tapped to sing lead on "Mr. Boyd," a song by a pop band called Argosy. The members of that impromptu group included the piano player Reginald Dwight, who would later change his name to Elton John.

"Yes, Reggie did a very nice job on that song," says Hodgson with a laugh. More seriously, he adds, "I was totally tongue-tied. I was 19 and working with these red-hot musicians. It was an amazing baptism."

Hodgson then answered an ad placed by Rick Davies for a new progressive rock band being formed. The result was Supertramp. Initially, the two men composed music for songs with lyrics by fellow founding member Richard Palmer.

After Palmer left the group, Hodgson and Davies took over as lyricists. Albums such as "Crime of the Century," "Crisis? What Crisis?" and "Even in the Quietest Moments…" found a home on progressive rock radio.

Supertramp reached the zenith of its popularity with "Breakfast in America" in 1979. "We spent eight months in the studio," Hodgson says. "We fought to get the mix right. There was a really positive feeling making that record. We hit it right."

The key line in his oeuvre, for Hodgson, is from "The Logical Song": "Please tell me who I am." "It's a universal question," he says. "I wanted to know why I was here. My childhood, my schooling left me more confused, rather than giving me answers."

"Music has always been a place to express what's been going on," says Hodgson. "I'm no different from other people. I wanted to share my joy, my pain."

For that reason, Hodgson is pleased that his songs found a receptive audience. For example, "Give a Little Bit" from "Even in the Quietest Moments…" received an ASCAP award as one of the most played songs of 2005, nearly 30 years after its release.

"That song has taken on a life of its own," says Hodgson. "It's got that quality that brings out people's hearts, especially in these times." He adds that he often closes the show with that number.

After the release of "…Famous Last Words…"in 1982, Hodgson decided to try a solo career. After achieving limited success with those first solo records, he took time off to raise his family in California.

For his current tour, Hodgson is mixing his hits with album cuts and previously unreleased songs. "It's a rich show," he says. "The great thing is that I can control the energy. There's a connection with the audience, and I'm happier than I've ever been."
ROGER HODGSON
WHEN: 8 p.m. Wednesday, Nov. 7
WHERE: Bergen Performing Arts Center, 30 N. Van Brunt St.,

Englewood
TICKETS, INFO: $49-$109; 201-816-8160 or www.bergenpac.org

ALSO: 8 p.m. Thursday, Nov. 8 at Mayo Performing Arts Center, 100 South St., Morristown. Tickets: $57-$97; 973-539-8008 or www.mayoarts.org



For article online: The Daily Record