Ottawa and Montréal - May 2009
By Marie Coyne
It seems a long, long time ago when I was 18 and watched Supertramp perform at Newcastle City Hall. My 50th birthday was to bring with it a very special gift - a trip to Canada to see Roger Hodgson perform in Montréal. Our son had bought tickets for the concert at Place Des Artes for May 8th. The trip was to be a four city tour – Toronto, Ottawa, Montréal and Quebec City. When I read on the website that Roger would be in Ottawa on May 1st as would we – it seemed meant to be and we bought 2 tickets for the concert. Another date was announced for Montréal – May 5th. Again we would be in Montréal for that date. This was getting tricky. The tickets were going on sale to coincide with the Canadian TV programme Star Acadamie and would be available from 7.30pm Canadian time, 12.30am UK time. So I set the alarm clock for 12.15am and was ready to dial! I couldn't believe my luck when I got through first time. Having gone through all the necessary questions the lovely lady at PDA rounded off by saying 'that's 2 tickets for Willy Nelson'!!! Excuse me….! What happened to the tickets I thought I'd just bought for Roger Hodgson? What a sense of humour the Quebecois have….!
Ottawa May 1st
The Ottawa concert was fantastic! I got to hear 'A Soapbox Opera' so the 3300 mile trip was worth it!! Roger's voice was perfect and I couldn't have asked for a better setlist.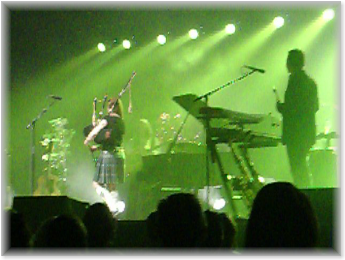 His little chatty bits in between songs are very amusing - even when he's explaining something that he says is actually a bit sad. Roger knows how to put a show together and he is so generous towards Aaron's many, many talents. Aaron plays the piano towards the end of Child of Vision and it is out of this world. Even Roger commented after it that the keys were still hot when he went on the piano! Another surprise that Roger introduced was the beginning of 'Along Came Mary'. Well...along came Bethany playing the bagpipes!! It certainly gave a very Celtic flavour to the song.
I was wondering if the Canadians would get into the concert - singing, dancing, clapping… well the two Canadian ladies we sat with didn't disappoint me. Although the crowd was enthusiastic, there wasn't a lot of movement where we were sitting. I explained to my new friends that I hadn't travelled all that way to sit during 'Breakfast in America'. They were great company and we sang, danced and clapped. Roger asks the audience to get involved at the beginning of the concert and we didn't disappoint - although we didn't manage the crying he gives you permission to do - we were having too much of a good time! (The tears were to come in Montréal). The shuttle bus ride from Scotiabank Place back into downtown Ottawa was full of Roger's fans so the atmosphere continued a little longer.
Montréal May 5th
Three days later we headed up to Montréal for the first of two concerts at the Place Des Artes. It's very strange being in a concert venue that you've never been in before but it being so familiar. It was just as we knew it from the DVD. Even the lady from the DVD who holds up the big sign saying Montréal Roger Hodgson was in the same seat – brilliant..!
Our seats were very central – it was a perfect view. Again, it was another wonderful concert. 'Hide in your shell' makes the hairs stand up on the back of my neck. However I did have to sit down for Breakfast in America (nobody was up and dancing!) The crowd certainly knew how to show their appreciation at the end of every song and Roger expressed his love for Montréal and its people.
At the end of the show I asked Kimberly, the promoter if I could have a set list from the stage as a memento of the concert. She replied in French. I had to explain that I was from the UK and my French was poor to non-existent.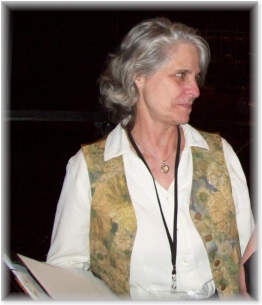 Kimberly called Linda over and explained we had come all the way from the UK and deserved a set list. Linda said they had all gone from the stage so she gave me hers. What a lovely gesture. We talked for a little while about the concert at Stowe in 2008 and I told Linda we would be back at PDA for the concert on 8th. Linda then did something pretty fantastic – she said to contact her on the 8th but explained she couldn't promise anything as she wasn't sure if Roger would be doing a 'meet and greet' after the concert. The next three days were going to be very nerve racking. My husband Tony managed to distract me very well with sight seeing and a visit to see Cirque du Soleil. It very nearly did the trick!
Montréal May 8th
Friday 8th came and brought with it a day of 'what time do you think would be a good time to contact Linda? She's a very busy lady – I don't want to disturb her'. I eventually spoke to Linda at 5.00pm. I'm going to cut this story short by saying that the wonderful Linda said that she would leave two passes at the box office. I think I may have lost the use of my legs… Can you imagine what it's like sitting at one of Roger's concerts knowing you're going to meet him afterwards….it's pretty mind blowing! The house lights went down and the well recognised introduction to 'Take the long way home' rings loud and clear. This was our third concert in eight days and each song evoked such great memories. The new song 'Teach me to love again' is a beautiful ballad but it's upsetting knowing I probably won't get to hear it again for some time. 'Rosie had everything planned' still reminds me of sitting in my bedroom as a young girl listening to Supertramp - on vinyl! Again 'Soapbox Opera' one of my favourites. After the intermission Roger walks on stage playing the introduction to 'The Meaning'. After this song has finished, Roger walks over to sit at the keyboard and proceeds to tell the quite humorous origins of 'Breakfast in America'. Again, I'm going to have to sit down for this song. Although what happened next – it's just as well I was sitting down. Roger continued …and I'm playing this song for Marie who's celebrating her 50th birthday and has come all the way from England for the show! I looked at Tony thinking I had perhaps just fallen asleep and had a very short dream but the look on his face indicated he'd just had the same dream. I stood up and shouted 'thank you' then sat down and burst into tears. I can't tell you why I was crying I was actually very happy.
I realised I didn't have a tissue and probably had mascara where you wouldn't normally have mascara when a charming gentleman appeared at my side(I was on the end of a row!) wished me happy birthday and welcomed me to Montréal. The lady sitting next to Tony also wished me a happy birthday and handed me a tissue! Whoever you were – thank you very much for the wonderful welcome and the tissue!
I can't really remember the second half of the show – it's all a bit of a blur. At the end of the show we made our way down to the stage area and waited with about 20 other people and were lead backstage. Every couple or group went to have a few words with Roger and photos were taken. My legs weren't really doing the job they are supposed to do. I was beginning to think I probably couldn't actually leave my seat. Then it was our turn.
Roger is a very unassuming and gracious man. I thanked him for mentioning my birthday and we told him about the emotional breakdown that followed. We talked about the concert at Stowe, its power cut and how it differed from other concerts of Roger's we'd been to….!! We had our photograph taken with Roger and then all too soon it was time to leave. I think there may have been hugging – twice!
This was the gift that kept on giving. The following day when I was reading the 'tour blog' section on the website, I was blown away to see my name and the fact that Roger had acknowledged my presence at the concert.
There is something very soulful and charismatic about Roger and I think it probably goes a long way to explaining where those wonderful songs come from deep within him. I am very grateful to have had the opportunity to hear Roger sing live quite a few times now. We don't get enough concerts here in the UK but I can understand why people travel far and wide to hear Roger perform – I know we will again….and again. Thank you Roger, thank you Linda.