Roger Hodgson's songwriting secret: 'I wrote them when I was alone'
By Mark Voger/The Star-Ledger
on October 26, 2012 at 7:06 PM, updated October 26, 2012 at 7:24 PM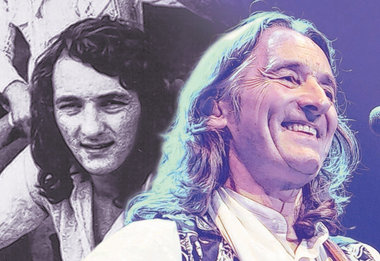 Roger Hodgson today and in his Supertramp days

The song titles alone bring back memories: "Dreamer," "Take the Long Way Home," "Give a Little Bit", "Breakfast in America," "The Logical Song." But fan testimony — particularly on the subject of lyrics — has convinced singer-songwriter Roger Hodgson, formerly of '70s rockers Supertramp, that his is no nostalgia act.

"The songs I'm playing were written 30-plus years ago, but they don't sound old," Hodgson says. "They still sound fresh. They're still very relevant — some are more relevant today than when they were written. 'Give a Little Bit,' I think, has a message that is more needed today than when I wrote it. 'Please tell me who I am' — there are a lot of confused people in world. It's a tough time to be alive right now. How do you find true happiness?

"It never ceases to amaze me, really, what different songs have meant to people. I hear everything from 'They saved my life during my teen years' to 'We fell in love to the songs.' Or they used the songs at their weddings. The thing that amazes me is the depth of connection people have with these songs."

England native Hodgson, 62 — who has upcoming shows in Englewood and Morristown — chalks this up to the initial inspiration for his lyrics.

"These songs came from a pure place within me; they were not contrived," the musician says.
"They really come from my own life experiences so that, I think, other people related to them and were feeling the same things I was. I was just able to express them.

"I wrote them when I was alone. That's where I go to express what's inside of me."

Hodgson felt like a bit of a loner while growing up in Oxford.

"I was in English boarding school," he recalls. "At that time, it was a harsh school system to be thrust into. For a shy, sensitive boy, it was harsh schooling."

Salvation came in the form of music.

"I got my first guitar in my hands when I was 12, and it changed my life forever," Hodgson says with a laugh.

"I was 13 when (the Beatles' first single) 'Love Me Do' hit the radio. So it was interesting. Here I was, in this very, very conservative school system in the middle of nowhere with 600 boys. We were dying to grow our hair long like the Beatles, but we were stuck in this conservative school. The dichotomy of it was very interesting.

"But the Beatles changed my life. They broke down doors; they broke barriers. Every album was like a step forward in ideas and experimentation. They really showed the world what was possible."

Hodgson pursued music as a young adult. He was hardly a studio virgin when he joined Supertramp prior to recording the band's self-titled 1970 debut album.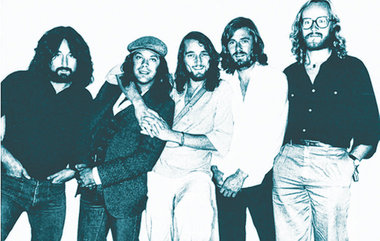 Hodgson (center) with Supertramp.

"Actually," he says, "I had a record out before I met (Supertramp founder) Rick Davies, under the name Argosy. My first experience recording was with a gentleman named Reg Dwight, who later changed his name to Elton John. So I started off recording with Elton John and (drummer) Nigel Olsson and (guitarist) Caleb Quaye, who were the hottest session musicians in London at that time.

"Although I put out the record under the name Argosy, I really wanted to be in a band. I started looking around. I found the advertisement in (the music publication) Melody Maker. I went up to London and met Rick. I think I was one of 600 musicians who applied to that advertisement. Mainly because Rick had to take a break in the proceedings, we went to a pub. I think that probably cemented things between us. He liked my voice."

From album to album, Hodgson's songwriting contributions to Supertramp grew. Five Hodgson-penned songs became Top 20 hits; another co-written with Davies went to No. 15. But for Hodgson, the fan testimony is the ultimate indicator of success.

"For me, when I've gone through hard times, certain songs have helped me get through it," he says. "To think my songs have done this for other people — that gives me the most gratification."

ROGER HODGSON
Nov. 7: 8 p.m. at Bergen Performing Arts Center, 30 N. Van Brunt St., Englewood. $49 to $109; call (201) 227-1030 or visit bergenpac.org.
Nov. 8: 8 p.m. at Mayo Performing Arts Center, 100 South St., Morristown. $57 to $97; call (973) 539-8008 or visit mayoarts.org.
More about Roger Hodgson at rogerhodgson.com.
For article online: The Star Ledger