Roger's two youngest fans took the long way to Deggendorf
August 7, 2009 by Claudia Yildiz
Here we go again… when I read on Roger's page that he will play an Open-Air in Deggendorf, my husband and I spontaneously decided that we will be there – and not only we both but also our children. We both already attended Roger's concert in Nuremberg this year and met some dear friends and we also planned to go to Vienna in September and our kids were quite sad, because they also wanted to see Roger live one day. So that was THE chance for them. They know Roger's music since they are babies and I didn't force them to listen to his music but they like his music and very often when we drive in the car they ask me to switch on one of his CD's. It makes me happy that they also like his music and it's great that it's their decision and not mine.
Deggendorf is about 2 hours by car from our hometown and I explained them that it's a long way (two hours IS long for kids ) and if they are sure that they'll really take this and they said "yes, we want to come along with you to Roger".
So we prepared for the "big journey" and packed our backpack and left our home at 5pm. The concert should start at 9pm and we thought it would be the best to arrive there in good time.
We arrived at the venue at 7pm, had a good parking place and had some time to walk over the venue – a typical Bavarian fairground with various shacks where you could buy something to eat and drink and lots of benches. Two stages were also there – a small one on the one side and a bigger one on the other side. The bigger one was for Roger and I could already see the Wurlitzer, the grand piano and Aaron's saxophones on stage. I really couldn't believe it that I should see Roger again tonight…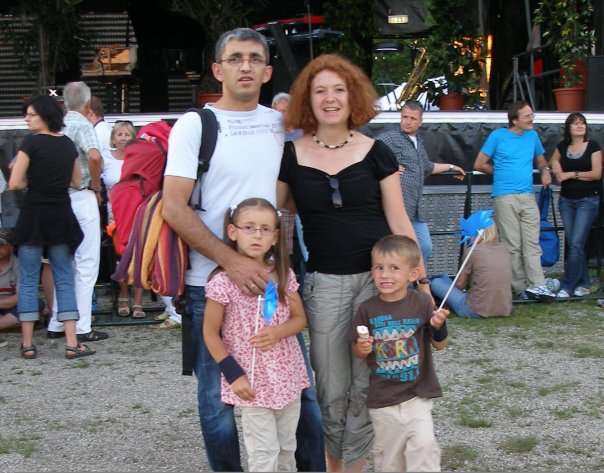 After we had something to eat we decided to stroll towards the stage. There were already a hand full of people in front of the stage and we decided to join them. Our daughter already made their decision that she wanted to be right in front of the stage. As we were nearing I heard someone calling my name and I saw a woman who looked at me. I didn't know if she really meant me, because I didn't know her but she called again my name and came up to me and introduced herself: it was Elke from Kathy's Garden Gate forum. What a surprise to meet her here. We had a small talk and I introduced her to my family.
Some time later I saw Linda hurry-scurry in the crowd and I waved her and she waved back and we met for a quick hello and hugged each other and I was happy to meet her and to introduce her to our kids.
Selina and Taylan gradually became a bit impatient because they wanted the concert to begin and I hoped for the best that they would like their first concert. So I unwrapped my baby sling to carry my 4 year old son during the concert and the people around us looked a bit amused but I didn't care. Selina sat down on the shoulders of her dad and then very punctual at 9pm Roger entered the stage. Awwww from the first chords on, they were both fascinated by Roger's voice and by the way Roger and Aaron played their instruments. They both clapped very enthusiastic and Taylan shouted "Bravo" and "Dreamer" (his fave one) after each song. When I explained him that Roger will sing "Dreamer" later on he meant "It's OK mum, the other songs are great too". Selina waved Roger all the time.
It was a whole different experience for me to follow the concert together with my kids. Whereas I normally like it to stay totally focused on the songs, I talked to my kids during the concert this time, hugged them, carried them on my shoulders, on my back, on my arms… but it was OK, to me it was THEIR concert and I loved it to be there together with them. So I can't really tell you much about the set list and I even wasn't able to take some pics, because my arms were really busy ;)
But I soaked up every single note Roger played and I enjoyed it to see him perform. He was very relaxed as always and he made a lot of fun too: suddenly he pulled out a camera and grinned and said "I have a camera too tonight" and made some pics of the audience.
We had a very good place next to the stage and there were only some people in front of us. After one and a half hour my arms gradually became very tired and I decided to go directly to the front of the stage, so that the children could sit down on the barrier. Fortunately Elke was right in front of us there so we stood next to her. Selina sat down on the barrier but the security guy didn't allow that and Elke was so kind and held Selina on their arms and I took Taylan again on my shoulders. Elke, thank you again – it was soooo kind of you J - I had the feeling again that "the gang" is a real big family.
Roger's last song was "Fools Overture" and then they left the stage. Of course we didn't let them go and they came back and Roger said "we weren't ready to leave you either" and they played two encores: "School" and "It's raining again". At the very end, Selina, Taylan and me waved Roger again and then he recognized us, gave us a big smile and waved back and the kids were happy – and me too of course.
Two hours passed by very quickly and it was a great show again. I was really amazed, that our kids endured the whole concert without any problems although they were really very tired when it was over.
We left the venue and suddenly Selina said "My picture – we forgot my picture". She painted a picture for Roger at home and we forgot to give it to Linda when we met her. So Selina was very sad and we decided to give it one of the security guys at the stage entrance. I wrote some lines on the backside and I begged him to give it to Linda. He looked very astonished at me and at the picture and I said him he should not forget it and that it is important. I wasn't sure if he would do so, but Linda mailed me the next day that Roger received Selina's picture and you can imagine how proud she was.
So we finally went to the car and took the long way back home. Our kids fell asleep immediately in the car and I'm sure it was a great adventure for them and they will never forget their first Open Air concert.
Thank you again Roger for a real wonderful and unforgettable evening!